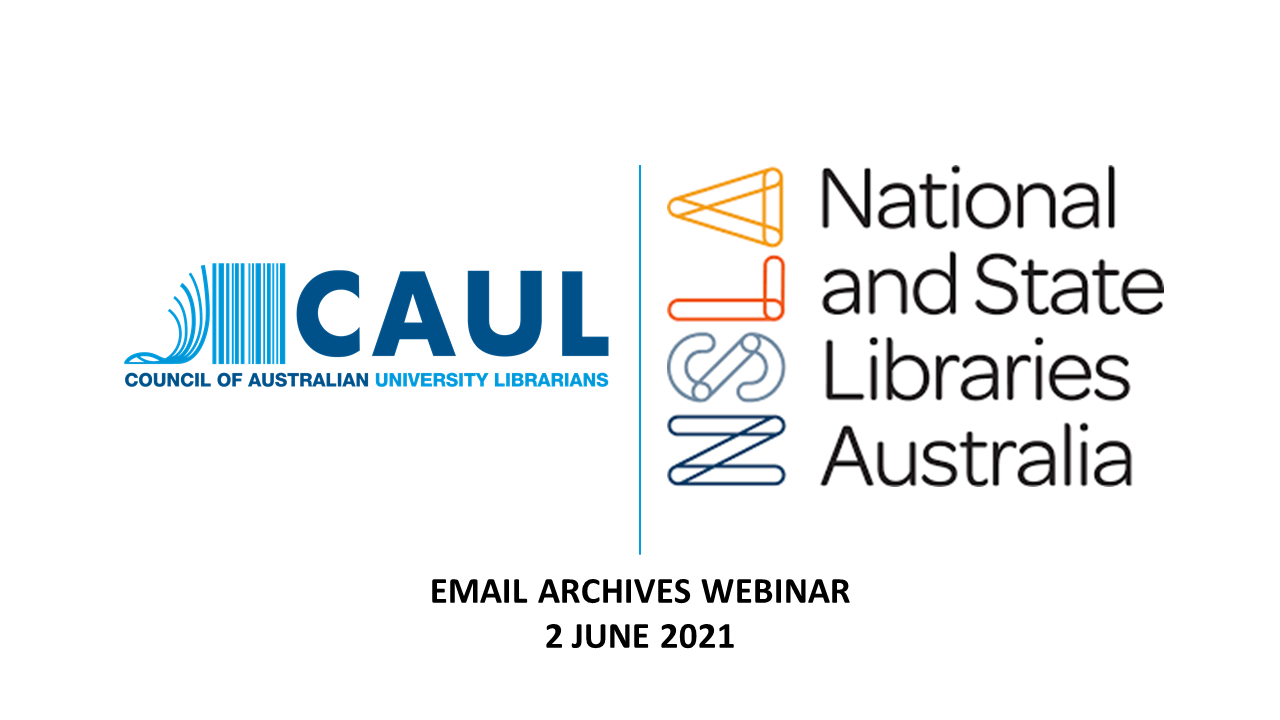 CAUL and NSLA are hosting this joint webinar on email archives which will be of interest to all academic and cultural institutions who are bringing email into their archives and special collections, or see that in their future. Email is the correspondence of our day and personal correspondence continues to inform and enrich the archival collections of significant individuals. However taking email into an archive or collection presents challenges and will require new skills and solutions if we are to retain personal correspondence for future research.
In the first hour our speakers will share current challenges and triumphs from their working with email archives.  This will be followed in the second hour by generous time for questions to the presenters and discussion in breakout rooms, and consideration of establishing a community of practice for email archives. We plan to record the presentations for later sharing.
 
"Collecting COVID-19 Email Ephemera," presented by Flora Feltham, Digital Archivist and Rhonda Grantham, Acting Legal Deposit Librarian, National Library of New Zealand Te Puna Mātauranga o Aotearoa. Flora and Rhonda will discuss Te Puna Mātauranga o Aotearoa's project to collect COVID-19 email ephemera over the last year. This work began during the country's Level 4 lockdown in March 2020, and while they wound up the active collecting phase in February this year, the collection processing work is on-going. They will focus on the technical challenges – and solutions – of rapid response email collecting, as well as our current work on this collection.
 
"Collecting emails: Challenges and complexities," presented by Matthew Burgess, Digital Collections Analyst, State Library of New South Wales.
Matthew will discuss the challenges and complexities of collecting emails without a clearly defined workflow for acquisition, preservation and access. He will highlight case studies from the State Library and discuss considerations and next steps. 
 
"Pre-implementation planning of ePADD at the State Library of Western Australia : crawling before walking," presented by Simone Barnes, Librarian and Michelle Collier Liaison Librarian, Collection Services at the State Library of Western Australia. This presentation will focus on the opportunity that ePADD offers the State Library of Western Australia in the provision of born digital email archival collections to the Western Australian community, including the planning and pre implementation learnings within Collection Services.
 
We look forward to your participation.
 
Webinar Chair, Peter Green
---
Email Archives Community of Practice
Join the Community of Practice
This will function as a mailing list but also a forum for discussion and connecting. You will need to login with a Google account before you can request to join.
---
Recording
View the presentation  here>