Open Educational Resources Collective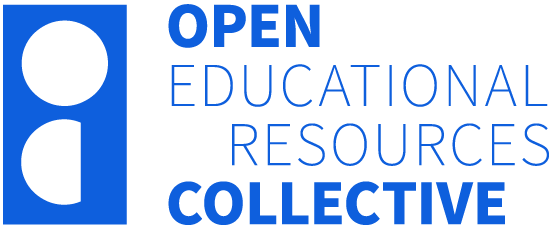 The CAUL Open Educational Resources Collective provides a shared open textbook publishing platform for participating CAUL Member institutions. It facilitates both independent publishing by authors at participating institutions, as well as collaborative, cross-institutional publishing. The Collective builds community and capacity across CAUL Member institutions to support open textbook publishing. 
The Collective has three objectives:
Build infrastructure, capacity and achieve tangible outcomes to move the OER agenda forward at a national level.
Facilitate collaborative authoring and publishing of open textbooks in targeted priority disciplines, with a preference for the inclusion of local and/or indigenous content.
Allow Member institutions to publish their own textbooks (anticipated to be up to two per year) in disciplines of their choosing.
CAUL Member institutions are at various stages of development in terms of their exploration of open textbooks. The aims of the Collective allow Member institutions with different goals and different needs to benefit from the Collective. The Collective draws on the strength of networks within the CAUL membership to encourage cross-institutional collaboration on open textbooks and facilitate knowledge sharing.
The Collective is operating as a two year pilot commencing January 2022 under an opt-in participation model. 
Inclusions
Participating institutions will have
access to training, guides and templates
access to two communities of practice - one for library staff, and one for academic authors
the opportunity for academic authors at their institution to apply for DIY Textbook Author Grants.
In 2023, there are two participation categories:
| | | |
| --- | --- | --- |
| Category | Description | Levy |
| Local Institution Pressbooks Participant | Designed for institutions that already have their own local Pressbooks platform but want access to grants as well as the community and capacity building aspects of the Collective. No Pressbooks shells included unless the institution receives a grant. | $2,500 |
| Collective Pressbooks Participant | Designed for institutions that do not have a local Pressbooks platform and who wish to publish two textbooks per year.   | $3,000 |
Participating institutions in the Collective Pressbooks Participant category will have access to two Pressbooks shells on the CAUL OER Collective platform.
Participating institutions - 2022 & 2023
Australian Catholic University
Bond University
Charles Darwin University
Charles Sturt University
Curtin University
Deakin University
Edith Cowan University (Joined 2023)
Federation University
Flinders University
Griffith University
James Cook University
La Trobe University
Massey University (Joined 2023)
Monash University
Queensland University of Technology
RMIT University
Southern Cross University
Swinburne University of Technology
University of Adelaide
University of Auckland (Joined 2023)
University of Canterbury
University of Melbourne
University of New England
University of New South Wales (Joined 2023)
University of Newcastle
University of Notre Dame Australia (2022 only)
University of Otago
University of Queensland (non publishing participant 2022, full member 2023)
University of South Australia
University of Southern Queensland
University of Sydney (2022 only)
University of Technology Sydney (non publishing participant 2022, full member 2023)
University of the Sunshine Coast
University of Waikato (Joined 2023)
University of Western Australia
Victoria University of Wellington
Western Sydney University
Questions
Academic staff at participating institutions who are interested in participating in the Collective or authoring an open textbook should contact their university library.
Library staff with questions about participating in the Collective should email Katya Henry, Director, Strategy & Analytics and Rani McLennan, OER Collective Project Officer at oercollective@caul.edu.au.
Frequently Asked Questions
My institution already has an open textbook platform. Can we still participate, and do we have to publish on the shared platform?
Yes, you can still participate and benefit from the community and capability building aspects of the Collective, and academic authors at your institution will be eligible for the DIY Author Grants. There is no requirement to publish on the shared platform, unless the author has received a Collective grant for their open textbook.
We aren't ready to publish at this stage. Should we hold off on joining?
The Collective has been designed to provide capability building and support for institutions who have not started publishing. Early topics for the community of practice meetings will focus on engaging academics and working with authors, which will help you to start planning. There is no obligation to publish within the year if your authors are not ready, but we encourage you to think about starting small with a few chapters of a single book that can be further developed over time.